If you're struggling with your mental health, you're probably already aware of how hard it is to get treatment. Getting a broken arm fixed is straightforward; anyone can tell what's wrong, and any hospital is capable of making it right. Even more importantly, it's clear to anyone that you can't just "buck up and handle" a broken arm. You need to get help. And you need to get it as soon as possible before you do additional damage to your arm in the course of pretending that you can manage your own orthopedic care.
Mental health is health. Straight up. Mental health conditions like depression are just as serious and can be even more debilitating than a broken arm. But, diagnosing depression can be a lot harder than diagnosing strep throat. And there are no antibiotics to simply cure an anxiety disorder. It can be challenging, and there are no panaceas, but if you follow these steps, you'll give yourself a great chance at real and lasting mental health.
Admit that you have a problem
If this sounds like what you need to do to conquer substance use disorder, you're absolutely right. Sometimes, substance abuse disorder can precipitate a mental health disorder. And sometimes, they can simply accompany them. But admitting that you have a problem is what you have to do to get over any health issue, physical or mental. Let's return to the broken arm example. If you steadfastly REFUSED to admit that you had a problem with the bones in your arms and just tried to get on with your day as best you could with one working arm, could you still get through your day? Maybe. Would you be as functional as you would be if you got help? Absolutely not. Would you be in an ungodly amount of unnecessary pain? Without a doubt.
The difference is it's a lot harder to understand that depression is weighing you down than to understand that your broken arm means you can't carry boxes anymore. The latter can be seen by everyone with eyes. And the former can go unnoticed by everyone. It can even go unnoticed by you. Admitting that prolonged negative feelings like anxiety, the miasmas of negative self-talk that is depression, or the terrifying vortexes of trauma responses are not normal, not inevitable, and are not a reflection of your personal worthlessness is not always easy. However, admitting that there's a problem and understanding that you need help is the first step to getting better.
Assess your needs and identify your preferences
Reflect on your mental health concerns, symptoms, and goals for therapy. Consider whether you prefer (or would benefit most from) individual, group, family, or couples therapy. If you have a therapist that you already trust, consider reaching back out to them. If you have had negative or underwhelming experiences with a previous mental health professional, remember not to lose faith in the power of mental health care. Different therapists can achieve different, and sometimes better, results.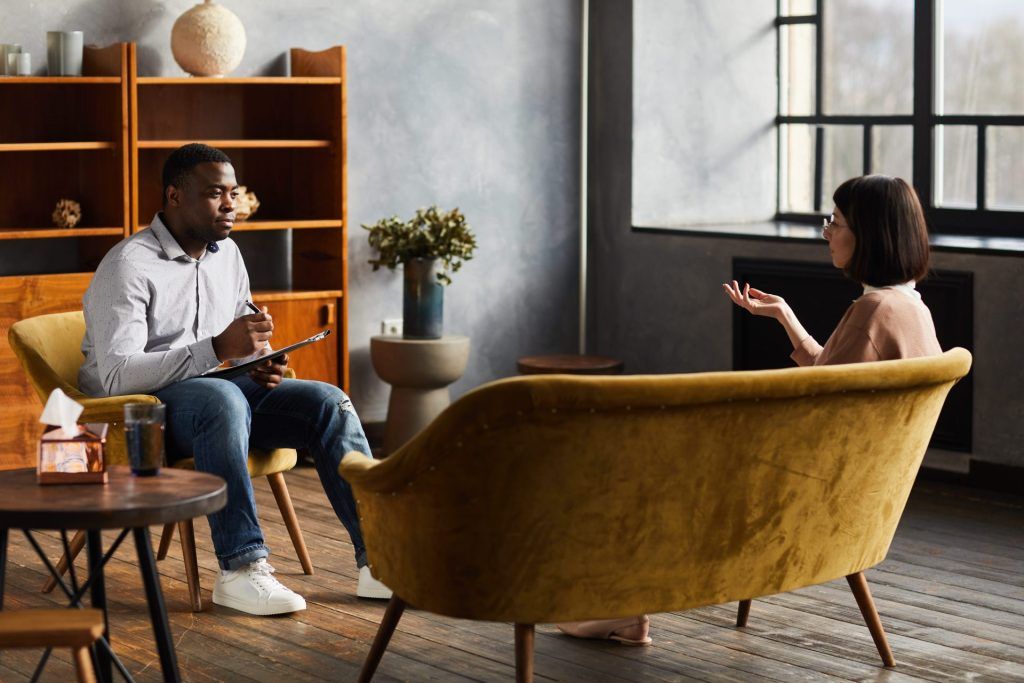 Commit yourself to the process of getting better
A broken arm will take somewhere between 6-8 weeks to heal, depending on the injury. After it's diagnosed, your doctor will be able to tell you roughly how long it will take to heal and what you can and cannot do in the course of your recovery. If there's a setback, your doctor will be able to perform an exam, take some X-rays, do some tests, and tell you why things aren't getting better. But the same isn't true for mental health. Sure, your mental healthcare provider can give you a treatment regimen. And just like healing a broken arm, you aren't going to get better if you just ignore the doctor's advice. If your doctor tells you to keep your arm in a sling for a month, you're only going to make yourself worse if you leave their office and go straight to the park to start pitching curveballs. If your therapist tells you that your drinking is contributing to your depression, keeping up your tab at your local bar isn't going to help you feel better about anything.
But no doctor, no matter how trained, or skilled, or smart they are, will be able to give you a timetable for curing your mental health disorder. That's not in the cards. And unfortunately, it's not going to be. And getting better, therefore, requires a degree of faith that just isn't necessary when healing a broken arm. You don't have to believe your body's ability to repair bone for it to happen.
But you have to believe in your mind's ability to adapt, to forge new connections, and to build new paradigms. Without that, nothing is possible. But with it…everything else is. If you're struggling with your mental health and you'd like to get better, consider taking advantage of our services at NP Addiction Clinic. We offer a wide variety of inpatient mental health services to treat a broad spectrum of mental health disorders. You don't have to live in pain. And you don't have to live without treatment.
In a society where stigma still shrouds neuropsychiatric disorders and addiction, the Neuro-Psychiatric Addiction Clinic is a safe haven. Here, individuals find a wealth of scientific knowledge, cutting-edge treatments, and a compassionate environment where their struggles are met with empathy and understanding. By choosing this clinic, individuals and their loved ones take a decisive step towards embracing a brighter future, one where the rays of hope and healing replace the shadows of addiction and neurological imbalance and a renewed sense of
purpose.
Start your journey to wellness today at one of the nation's leading addiction and mental health treatment facilities. Benefit from recovery in style with great people in a pleasant South Florida location. Call us at (888) 574 3506 or complete the form here. We are available 24/7 to answer any questions regarding our treatment programs.